High Floor Luxury Double Room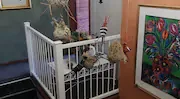 Our Budget Luxury rooms are bigger than most rooms in town and is decorated with a modern feeling.
The Rooms are situated above the Restaurant and only accessible with stairs. All rooms have a shower only and a balcony overlooking the garden or parking side.
The bird rooms are all upstairs the restaurant. The balcony's make these rooms very attractive for smoking outside. Our most popular rooms for the budget traveller, however, if you need peace and quite, this is not your option for the hallway can be noisy sometimes.