Welcome to Cranberry Cottage and the beautiful Eastern Free State.
Unwind in warm Free State hospitality, while stretching out in our spacious, luxurious rooms -
Business or Leisure, we are thrilled to welcome you in Ladybrand. Set in a lovely lush garden retreat, the calmness, peace, energy & beauty of this venue is mesmerizing and tranquil. With our onsite Restaurant & Bar, Wine cellar, Conference Centre, Children's Play area, Hair Salon & Spa, Cranberry's sure to make your stay as comfortable and relaxing as possible. We have 13 Luxury Rooms, 12 Deluxe Rooms and 9 Self-Catering Rooms, each with crisp linen, sparkling bathrooms, and all the modern mod-cons you may need. Aircons, mini Fridges & Coffee & Tea Facilities, as well as toiletries in all our en-suite bathrooms.
We have successfully created a menu to cater for all taste buds ranging from healthy Vegetarian Quiches and Salads to succulent Oxtail pots and Lamb racks, with a variety of Pizzas, Seafood and Succulent Steaks and crispy chips, then decadent Desserts to finish off the astronomical feast.
See More
Standard features in all rooms: 16 DSTV Channels - Airconditioner - Electric Blankets - Coffee/Tea Facility with a bar fridge - Access to the A-La-Carte Restaurant with room service - Private Safe - Free Parking
See More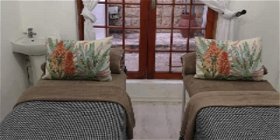 Phomola African Retreat
In Wellness, WHAT you offer is just as important as HOW you offer it. We concentrate on the BOTH...
Our professionalism, inner peace and natural beauty enable us to make every treatment an unforgettable experience.
All our treatments focus on de-stressing and relaxing, and draws you into a space filled with aromas of healing.
We offer a variety of Treatments and Spa packages for individuals and groups.
The surrounding natural beauty at Cranberry, creates the ideal atmosphere to ensure an unforgettable African Spa Retreat.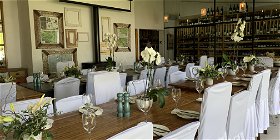 Wine Cellar Dining or Function Venue
Celebrate @ Cranberry your Birthday , any function, corporate meetings etc. We have a cellar Room and Conference Centre to cater for any event, big or small.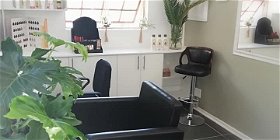 Salon @ Phomola African Spa.
Spa or Hair Salon - we got you covered We have a unisex hair salon on the premises at Phomola Spa.
From our guests
Dit was 'n belewenis by Cranberry Cottage. Die rustigheid daar,was wat ons nodig gehad het. Die cottage was baie netjies en volledig toegerus. Ek kan dit aanbeveel vir enige iemand. Die restaurant se kos en diens was van die beste. Definitief 4 ster. Ons is elke dag vriendelik ontvang.

Maureen

via LekkerSlaap

The garden, the spacious bedrooms and restaurant. The garden is amazing, with lots of birds and water features and ducks

Guest

via Booking.com

Excellent all over. Very friendly staff including the night watch man. The room was spacious and the beds very comfortable. Never expected such quality in a town like Ladybrand.

Davin

via Booking.com

Die personeel is vriendelik en uiters hulpvaardig. Eenheid was skoon en in veilige omgewing, daar was net laataand heelwat luidrugtige gaste vanaf die restaurant.

Willem

via LekkerSlaap